Pool Table Installation Service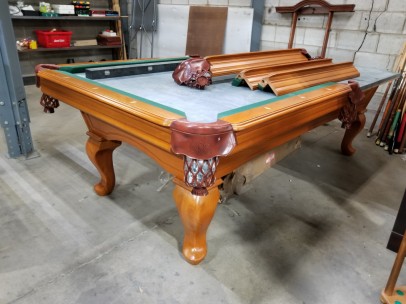 The installation and setup of a pool table mandates more work that most anticipate. Likely, your pool table will need to be dismantled and relocated in pieces and then reconstructed at the new location.
The pool table installation process requires great attention to detail. This is the set-up for all future games you play, which is why having a professional installation from a company you can trust is ideal.
At Alpha Billiards, our pool table installation experts, with over 25 years of experience, will quickly yet safely install, balance and level your pool table while assuring damage-free transportation.
Our Chicago pool table experts offer quality workmanship services to all pool table owners, regardless of demands and requests. With over 25 years of experience, we've worked with residential and commercial clients and have built, transported, and installed pool tables of all types and sizes.
We're ready to facilitate the transportation and installation of your pool table and will ensure the safety of your table during all stages of the process.
Residential and Commercial Installations
Alpha Billiards has worked with home and commercial clients throughout Chicago and surrounding areas for nearly three decades. Whether you need a pool table installed in your basement or need several tables installed at your arcade or bowling alley, our vetted transportation/installation experts are ready to complete the job for you.
Our process and installation protocols allow you to rest assured knowing your table(s) will be properly installed and ready for play.
With the Alpha Billiards pool table installation service, you'll receive:
Delivery
Set-up
Home installation
Commercial installation
Pocket, slate and felt installation
Delivery and Set-up
Choosing Alpha Billiards for your installation needs will ensure you receive on-time deliveries and prompt set-up. Before leaving the installation site, we make sure pool tables are perfectly leveled and balanced. Our satisfaction-guarantee promise means we'll stay at the site until the client is completely satisfied with the installation before we depart.
Pocket, Slate and Felt Installation
Our detail-oriented installation experts ensure no details are overlooked. We pride ourselves in top-notch service, which is why we make sure all installed pool tables are done so to perfect measures.
Before we consider the installation complete, we'll make sure the slates, pockets and felt are in great condition. If necessary, or if requested, we can (and will) install new pockets, felt and/or slates.