Pool Table Slate Crating & Packing Service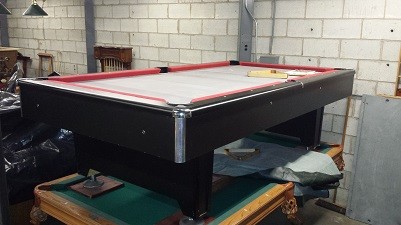 When shipping, moving or transporting a slate pool table, it's easy for damage to take place. Slate pool tables require more care and attention than wood-built tables, which is why hiring Alpha Billiards (the slate-crating professionals) is best. Our Chicago pool table experts are professionals in table wrapping, slate crating and transportation safety and guarantees your pool table slates to be properly and safely shipped without any damage.
Preparing a pool table for shipment is quite an undertaking; it's not a task to be taken lightly. They're difficult to handle, heavy, and can cause personal harm and injury if a solo-move effort is attempt is made without the help of professionals with experience and training. If you have a slate pool table to transport, we always advise the community to hire a qualified and insured service provider (such as Alpha Billiards).
Our slate crating and table wrapping services don't stop at delivery. Upon the table's arrival to your destination, if requested, we will offer set-up and table installation services.
Slates are constructed from a brittle material. If not properly crated for transportation, it may crack or break. Our Chicago pool table experts have over 25 years of experience in slate packaging, and we guarantee all clients a safe, secure and issue-free delivery.
Prior to crating your table's slate, we'll speak with you to determine the best route for packaging:
Multiple Slate Crates: This is where we individually crate each piece of the table. Since these crates will be lighter, this is ideal if the crates are being handled without the use of machinery.
Single Slate Crate: This is where all of the slates are packaged together into a single crate. This is ideal for when crate-lifting machinery is available.
Pool Table wrapping is a crucially important aspect of the process; it keeps your table safe. To avoid damage during shipments, we wrap each part of the table. Once the slate is removed and crated, our Chicago pool table professionals will meticulously wrap all parts of the pool table, including the legs, rails, frame and the slates. This keeps the table safe during transit and ensures it won't be damaged.