Pool Table Moving Service in Chicago Area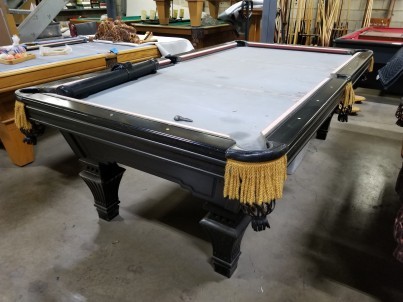 Alpha Billiards is a family-owned and operated pool table moving company.
Fully-insured and licensed, Alpha Billiards customers can rest assured knowing their table is in the hands of professionals. With over 25 years of experience, saying we know a thing or two about safely transporting pool tables would be an understatement.
We've safely transported hundreds of pool tables during our time in business with many commercial clients returning time and time again.
If you have a pool table that needs moving, albeit, from one side of the room to the next or from one city to another, Alpha Billiards is here to help ease the process.
As one can image, moving a pool table is no easy task. Without the proper tools, equipment and manpower, it's a back-breaking process. Other than coin-operated pool tables, moving one requires disassembly. Under no circumstances should a pool table be moved assembled.
Opposed to making this daunting move yourself, rather than chancing damage to your table or injury to yourself, give Alpha Billiards a call and let the professionals relieve you of the task.
Our pool transportation service couldn't be any easier. When you choose Alpha Billiards for your move, our team will arrive to your location, will carefully disassemble your pool table, meticulously package it and transport it to the new location.
Once the table arrives at its new home, we will then reassemble the table. We'll also level-out and seam the slates. Table re-felting is also something we offer here and is done so by request.
Once assembled, the table-level will be checked for evenness. Then, one of our installation experts will enjoy a round of pool with you to ensure you're completely satisfied with the table and your experience.